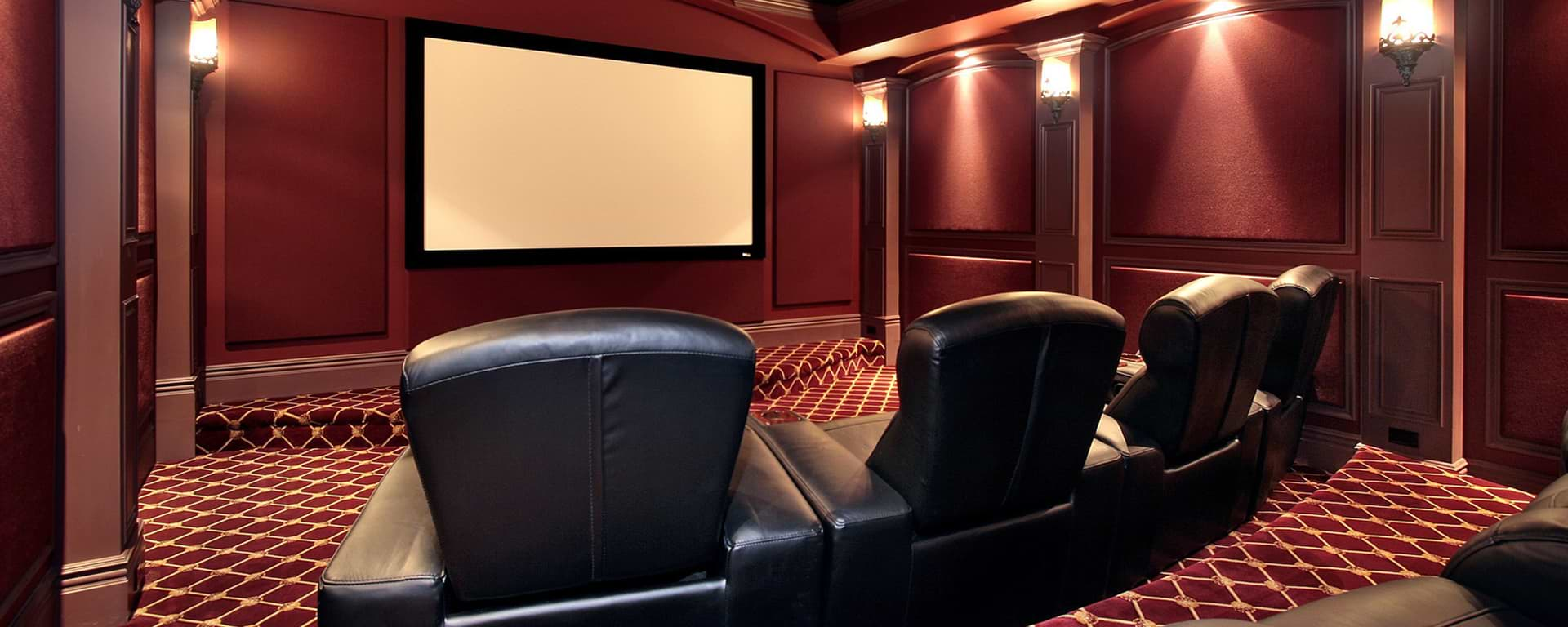 FIND LOCAL HOME CINEMA INSTALLATION COMAPNY 
Home cinema is an audio and video equipment set up in your home or any given place to emulate the movie theater experience. Watching cinema in your own home is more luxurious than watching it in a cyber or cinema hall. A big screen which has a stunning high resolution and surrounds sound is the best when designing the ultimate home cinema. The best and perfect home experience can be designed by setting up sophisticated systems which make use of 3D and 4K screens which are latest making use of the most current high definition technologies. During big movie nights, gaming experience and major sporting events, someone requires something special and therefore the lights are dimmed, blinds closed and a big screen projector is descended from the ceiling. This is a simple way of transforming a living room into a home cinema. A dedicated home theatre is created for the ultimate home movie experience.
A home cinema design service determines the type of cinema experienced. The size and shape of the room determine the size of the screen and most importantly the seating configuration or arrangement. Size of the picture you want to display also determines the distance from the screen.  Nj3Coordination of the loudspeakers and subwoofers and any other forms of electronics is important to deliver maximum impact after all the construction methods are considered including the make-up of the walls, floor and ceiling surfaces to ensure the room matches its specifications. A proper viewing and seating should be considered when determining a home cinema for everyone in the cinema room should watch everything clearly and no one should have his or her view to the screen blocked or be too close or far away too. Blockage problem can be solved by raising rear seats on a platform. A 5-inch boost can be enough to clear the sight lines.  Home cinema experience is not only for the rich and famous but for everyone because it is very affordable. The size of the theater is determined by the number of chairs you need and how much space to be left behind the chairs. Put in mind that the longer you make the room, the wider the room and the screen needs to be. If at all the room is not too long, you are advised not to buy the widest screen available because you will be seated too close or very near to the screen.
When designing a home theater, create a realistic budget and once you have found a comfortable range, then determine the possible measures of allocating your budget. You then need to determine the possible measures of determining your budget. Investing money in speakers and sound control products happens if sound is the most important part you desire or need in your theater. Concentrating more on the screen means that you need the largest possible screen and one therefore invests more on the screen and projector.
This is the best way to make an outstanding home cinema room design. Home remodeling's endpoint is building your own home theater. After finishing most of the work of the work of fixing windows and installing floors, it will then be time to reach deeper into the bank account and lavishing attention on your entertainment needs. It is evident that most people who want or desire luxurious lives need a home movie theater room. The power to cast a large enough picture and controlling outside light should be fulfilled in order for a certain home movie theater to be considered as a proper home movie theater. These are parts of the requirements that reflect to a video projector sensibility. This can mostly be applied to large, flat-screen televisions. As the saying goes nobody is perfect and therefore rules are meant to be broken, so everyone should feel free to adapt them to your own needs and limitations but one must be careful and keen enough not to break the rules.
One should find a suitable area for his or her own home theater room. When we talk about a dedicated space, we refer to a place where little activities or no other activities at all happen in that home theater except for screening-related activities. Screening, in this case, means more than it ever did and the streaming services like Netflix and Hulu, Blue Ray movies, conventional cable television, and video gaming. Mostly when the home theater shares space with other activities, the environment around it may become poor and therefore not convenient and the cinematic experience can easily be lessened. A Home theater room is likely to be considered non-dedicated when the home theater shares open floor plan space with the kitchen environment because smells of different types of foods cooked and various types of cooking sounds invade that particular area.
On the other hand, when the theater is the living room, small children or in other words kids play around and light, therefore, becomes difficult to control. For those well off or rich people who have big houses, spare bedrooms work best but they, therefore, need to be long enough in size so that viewers can maintain a proper distance from the screen. This is most important with video projectors.
Did you know that Ambient light can also be controlled? When we talk about Ambient light, we refer to light from sources from outside our given theater. These outside sources are sources as such as; light from other rooms or through windows, doors or even small openings on the damaged walls. When designing a good, admirable and perfect home theater, ambient light should be limited or controlled whether natural outdoor light or light from other rooms. Light bleed kills or destroys video projection images leading to invisible pictures, less colored or even blurred pictures and this makes flat screen viewing less boring or in other words less enjoyable than any other normal screen viewing.
When designing a home theatre cinema, you should ensure noise or any form of irrelevant sounds from the outside is avoided because sounds or in other words noise is the main hindrance to watching cinemas for it ruins the viewing experience and the viewers' comfort. Some of the examples of ambient sound that can crush in and destroy your home theaters audio or destruct the viewers concentration power are: kitchen noises when one is cooking or running water from taps or strong smells or scents from foods, dishwashing and mostly sulfuric or other types of metallic utensils, plumbing noises, screams and noises from young children or kids in other rooms and other forms of irrelevant and irritating sounds from outside.
Someone might wonder or ask himself or herself how noise from outside can be limited or reduced. This is very simple to be controlled. Some of the variable you can follow or consider in controlling outside noise in order to establish a dedicated and convenient space for home theater cinema is as follows:
Make sure you replace your hollow core doors with solid doors because gives your home cinema a soundproof nature.
Add a new or second layer of drywall or replacing it with a beautiful, unique and powerful sound reducing wallboard like QuietRock. When we talk about drywall here, we mean dark walls which cannot attract the attention of the eye to disturbing your wonderful watching experience. We might also prefer to paint a dull color on the walls and not only the front part but all the sides of the walls in your home cinema theater.
Most surprisingly, thick curtains which are a bit dull in color can be used to block excess light and absorb sound or noise from outside if you do not have windows in your home theater. This is the simplest way of blocking light.
Tile flooring and even hardwood have reflective surfaces that can shift your concentration from the cinema hence disturbing your wonderful experience. The best way to make you watch your movie peacefully is by carpeting your floor with dull colors and avoid reflection of light into the room.
Wall to wall carpeting can best be used in home theater for it is best known in reducing audio bounce. Although some people might not love wall carpeting for they may consider it as girlish or childish but trust me you will admire and love it when you are designing a perfect and unique home theater. The white color is usually recommended for ceilings because it reflects maximum light but when designing a home theater, light reflection is never desirable. One is therefore recommended or advised to consider down the toning of the color of the ceiling with gray or another neutral color.
What surprises me most is that a soft seat with cushions on it absorbs sounds better than furniture with hard elements. The soft cushions on the seat give you a suit relaxing environment when watching cinema to make you understand the cinema well for you get to listen to every word keenly due to the absorbed sound. Installing draperies and other soft materials can also control the sound.
When designing a home theater, you need to determine the speakers, amplifiers, woofer, and subwoofers to ensure the theater performs at cinema sound pressure levels selecting the appropriate projector and screen to provide appropriate image brightness is the best for video design for it varies theater usages.
On the other hand, when determining a home theater layout, audio placing and video components within the room and also ensuring the seating placement is perfect and comfortable. Make sure you adjust the video system to meet industry standard or more quality picture, grayscale, and color. A home theater should be calibrated. Someone may ask himself or herself what calibrated means. Calibration is the process of tuning the video system and home theaters audio to meet certain specific quantifiable targets. It is also important to implement and install the very latest available technologies for your home cinema experience. Hiding cables and equipment far away in your preferred location is very important for it creates a clean environment for you to focus and enjoy your given form of cinema in your home cinema. Digital helps to give you more comfortable in your own home by bringing or installing a cinema experience in your own home.
A home cinema installer near me is an expert when it comes to creating a perfect home cinema experience according to your desired suggestions meeting your expectations. Make sure you avoid the temptation to load your home theater with curious near the screen and also displaying movie posters on the wall around the screen. These are only a form of distraction when they are mounted near the screen. You are therefore advised to mount them on the wall behind the viewers if you really need them. This is a simple way of keeping your home theater room simple, classy and admirable. Cinema light control refers to the ability to turn lights on and off or graduating the light within the cinema space.
Some common mistakes should also be avoided because it makes home cinema installation to appear so expensive or costly and I assure you that if you avoid them you will save yourself a lot of time and even a lot of money. Avoid all the necessary mistakes and make sure you follow or consider the instructed procedure when creating or designing your own home cinema theater.
Home cinema is an investment worth having for it will create for you a special space dedicated for high-quality entertainment not forgetting the luxurious and more comfortable life in it.
In conclusion, I would like to thank you for reading this writing for it is genuine research and I can confidently assure you it works. It is also a real-life trial because I watched it being installed in a cinema home near me Los Angeles area. Thank you.
Summary
Service Type
Provider Name
ONBOARD IT TECH INC-SMART HOME INSTALLATION
,
12207 Chandler Blvd Valley Village
,
91607
,
Telephone No.(818) 564-3496
Area
Description
ONBOARD IT TECH specializes in providing high-quality low voltage work covering from security camera installation to home theater installation to networking and much more. We work with small businesses to large corporations, ONBOARD IT TECH has the skills and know-how to ensure that your business can succeed in today's increasingly competitive marketplace.